This post is a little late due to so much Christmas errands I've been running. But it's still very relevant to the next two days.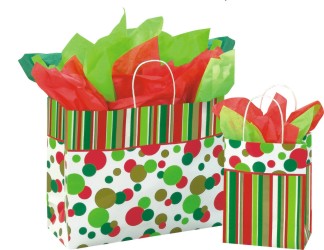 Imagine that it's Friday evening and you just got off work with your holiday paycheck. Now to cash it and get those last minute gifts. I've been there and those lines make it hard to get to the mall before closing.
Or maybe you just waited until the last possible minute. I've been there too. Either way, one of the few places left open is Wal-Mart. Gasp! Oh no! You don't wanna come off as the cheap gift-giver, right?
That's what a swag bag is for: lots of thoughtful (smaller) gifts. These are a couple of great things you can find at your local Wal-Mart if you need to put together something at 11pm. It works out because you can get the tissue paper and gift bag in the same place!
If you'd like to see my other swag bag gift guides, I did one for the
Glam-Rock Girl
, the
Girly Girl
, and the
On-the-Girl Chick
.
1: Printed Lace Tunic ~ $12
2: Magazine Subscription ~ $10

Image via The Bella Moda
You could tear out the subscription card from one her favorite magazines and mail it with her information and payment, or just subscribe online. Either way, make sure you get a card that says she's getting a year's worth og mags to her door.



3: Bracelets & Bangles ~ $6
4: Graphic Tshirt ~ $5

Make sure she's a t-shirt kind of girl.
Personally, I find myself wearing them out less and less.



5: Studded Flats ~ $10

Every girl needs a pair of flats and, chances are with the end of the year rolling around, it's time to get new ones.



6: Scarf ~ $6

It's that time of the year when everyone needs a scarf and there's a plethora of prints to choose from.



7: Jewelry Valet ~ $10

Does she travel? This is great for keeping jewelry from breaking in a suitcase.



8: Studded or Rhinestone Appliqué ~ $10

Some people knock appliqués as hokey but they can help give an old shirt, purse or skirt a new life. If your friend is into DIY, this is perfect - just make sure you choose one that matches her personality.



9: Cute Socks ~ $3

Nothing says "I Love You" like cute socks. Various prints and style available.



10: Mini Perfume ~ $6 - $13

Around this time of year, Wal-Mart has a lot of stocking-stuffer perfumes (more than they show on their website) and they're priced as low was $6. I just got myself Paris Hilton Heiress & Adidas - it's a weird combination, I know.

Happy Last Minute Shopping!