I recently had the opportunity to judge a local hair styling competition sponsored by
Sunsilk
. They're going around the country hosting Battle of the Brushes to promote their new line co-created with NYC runway stylist Teddy Charles.
In case you're not familiar with Teddy, he recently style the hair on the cover of Teen Vogue.
I arrived at the Battle of the Brushes a little early and watched the stylist set up.
Christian Iles
in the blue and David Sance in the gray were both from the Perry Henderson Salon. They were chosen by a panel of Dallas' who's-who on style.
Christian actually used the product beforehand and told me he liked how light it was as opposed to other products that can leave hair tacky. He was a bit nervous as anyone would be before a contest, especially when the nature and theme of the contest was announced. The stylist had 15 minutes to do a hair style based on the product Captivating Curls.
Christian started off really strong, shaping large curls and adding volume everywhere he could. David reminded me of a hair samurai, being very quick and precise with both the product and his brush.
During the 15 minutes, Teddy was giving the crowd hair consultations and
free Hydra TLC
product to the crowd that had gathered.
I'm surprised more people didn't come by.
At the end of the 15 minutes, Teddy, Bri Crum of the Fashionistas and I consulted about the looks. Christian did an updo in 15 minutes, which was impressive, but it was frizzy and a little messy.
David, on the other hand, had gone with a casual look of loose curls. It was very light and airy. In the end, we decided on David because his look had an ease about it yet remained polished. He commented, however, on the lack of hold that the product had. He gave his look two hours before it started to frizz.
---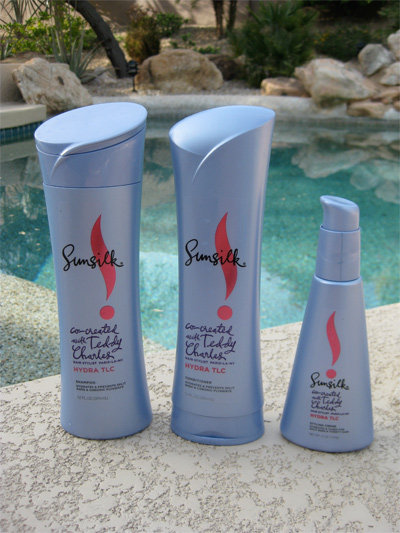 If you'd like to try the new products for yourself,
Sunsilk
has graciously donated some bundles to giveaway my readers on the Dallas Fashion Calendar! So if you live in the Continental US head over there and check out the bottom of the posting for more information.
To enter, just subscribe to the Dallas Fashion Calendar. To be entered twice (even thrice), post about the contest to your Twitter or Facebook. Each post gives you an extra entry. You can use this shortened link:
http://bit.ly/dalfcss