Let's Cover the World in Gold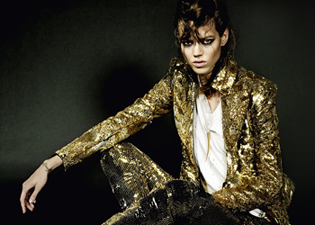 Let me start by saying this picture is absolutely captivating - everything from her attitude to the outfit. Be still my little gay heart...
FYI: After years of silver, gold has finally hit as the IT metallic. It's no longer just an accent, it can dominate your outfit just don't overdo it i.e. the first picture vs the third one below. "Gold, it makes the world go round..." Listen to the song from Repo: The Genetic Opera to the right.
View Pics Larger @ Cartoon Styles
Marc Jacobs Does Silly Bandz
Thanks to Hearty Chic for the Images
If you haven't heard by now, Marc Jacobs has jumped on the Silly Bandz bandwagon. It's a five piece set that feature MMJ charms to assure you that you didn't just overpay for silly bandz. They're $15 on
ShopBop.com
. I like them but Alex wants us to get matching superhero ones. Those are $1 LOL.
Harry Potter is Coming to an End
Hermione Who?
I went to see Harry Potter and the Deathly Hallows Pt.1 last night, and I teared up when I realized that this is it: the last book, the last 2 movies. It's been a magical 9 years watching this book series I love take life.
I also realized how hot Emma Watson has gotten over the past couple of years. She's one of the highest-paid actresses in Hollywood at age 20, and since Burberry, a bit of a fashion icon. The new Twiggy-esque haircut only emphasizes it. I think it's cute but Alex took one look at it, pouted, and shouted, "Hermione Hair?!" We both agreed, however, that it would suck if
she quit acting
.
W Magazine Launches Fashion On Film
Last Wednesday, W magazine launched an online film festival for the fashionable:
Fashion on Film
. It's got everything from video lookbooks to behind the scenes at fashion shows. The title that first caught my eye was
Modelgeddon
.
"LOVE magazine teams up with director James Lima and Donatella Versace in Modelgeddon, a world where supermodels Alessandra Ambrosio, Ana Beatriz Barros, Claudia Mason and Julie Ordon turn into superheroes." - It reminds me of those B-Movies where women fight for the viewer's pleasure, namely
Bitchslap
. I'll never say "No" to women kicking ass (or falling buildings) in tight, zipper-embossed jeans.