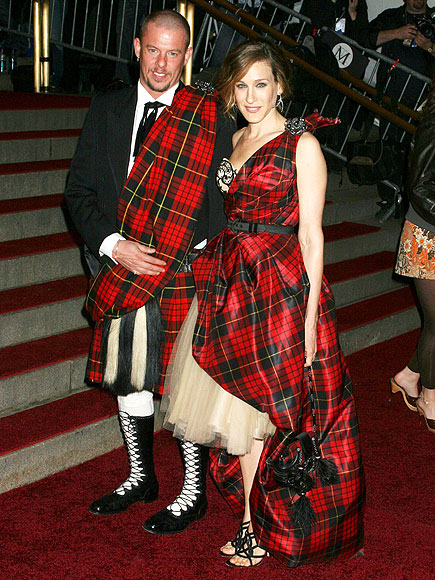 I feel pretty late in the game for just writing this but I've been without internet all week. My girlfriend texted me the news Thursday night. I was crushed. Who wasn't? I've been reading everyone's reactions for the past hour here at the bookstore.
He was one of those designers I dreamed about seeing in person and basking in the awesomeness of his runway show. His designs always carried that rebellious aura mixed with fantasy pulled from a dream (or nightmare). I remember the first time I saw his collection: it was Goth and Girly and Scottish all mixed into one. You know the one I'm talking about ♥ ♥ ♥ ... I was just out of high school and still rocking Casual PunkGoth so his aesthetic completely fit into my fashion ideals. I have cutouts of when Sarah Jessica Parker rocked it on the red carpet.
And he never failed to put on a show, always pushing the envelope of shape and volume. He delved into the Dark depths of Goth, played with a wicked circus, and, most recently, took us on a sci-fi adventure into the nouveaux space age.
It goes without saying that fashion has lost one of its greats. Thank you for everything you gave the world - Lee Alexander McQueen, 1969-2010.