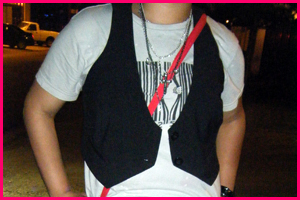 I'm going to start this with a question posed to me by my girlfriend's mother:
"The vest - is it a gay thing?"
I was wearing one with my work outfit yesterday, and it's pretty much become a staple in my wardrobe. Then, on Sunday, I noticed an over-abundance of vests at S4. I know I was wearing one, but so was everyone else! First, my friend Yuki in a pinstripe hoodie vest below:
Personally, it's one of my favorite pieces because you can dress it up or down, you can wear it with pants, skirts, t-shirts, blouses, dresses - almost anything!
The great thing about vests is that they can can be casual or cool. It's one of those lucky clothing items that is both feminine and masculine - and at the same time, neither. I'm sure the gender-neutrality is what makes it trendy among the gay community.
There were a couple of vests on the Fall/Winter 2009 Runway, however, it's too hot for the big fuzzy vests right now.
| | |
| --- | --- |
| Anna Sui | Diesel Black & Gold |
| Oscar de la Renta | Miss Sixty |
For more vest pictures from that night, look at my
Vest Album
- there's a few more designer pics too.