The Supernatural Mid-Season Finale was tonight, which means I have 5 Tuesday nights free and Alex has 5 Tuesdays mornings without the
Heat of the Moment alarm
. It was a compromise after she threatened to throw my phone out the window. With all the live blogging going on, I felt it was the perfect night to post the
Supernatural anti-possession bows
on our Faye's Realm Etsy store. I'd been meaning to for a while since we don't have any conventions for about three months.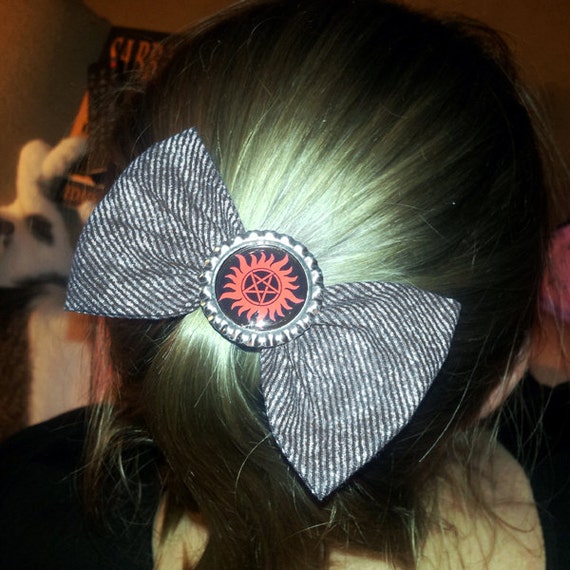 As I'm listing the bows, I realized that fandoms really bring out the creativity in people. Etsy overflows with people who spend hours crafting something just to express their love for this show. And it's not just time: you have burnt fingers from hot glue guns, tiny and not-so-tiny cuts from precise cutting with razor blades, and various instruments (pliers, needles) jamming under your nail from pushing just a hair too hard. But at the end of the day, they get to stand back and say, "Look what I made with my own two hands... Look and buy it."
So I'm dedicating this Top 10 Tuesday to some super cute/cool crafts and the crafty people who love Supernatural as much as I do. Also, I'm shamelessly plugging
my girlfriend's and my business
.
Faye's Realm Supernatural Anti-Possession Bottlecap Hair Bow
Pictured above, a joint project between me and Alex's grandmother.

Sam & Dean Winchester Crochet Sackdoll
Maybe because I've always found knitting quite challenging, but these boys look like a lot of hard work. However, they're adorable in the end.


Supernatural Castiel Phone Dustplug Charm
He looks a little derpy but I like the idea of having Castiel as your phone's guardian angel.


Sam & Dean Winchester Cameos
I'm still very amazed by GeekCameosEtc's patience to carve Sam and Dean's faces into clay molds. These look beautiful.


Castiel Inspired Felt Hair Bow
I make bows but this is so much more intricate - yet the piece itself is so simple and recognizable.


Castiel Inspired Capelet
I've got my eye on this one. Not a fan of khaki but it's based on Castiel's trenchcoat, complete with wings. Plus, I like how it looks the outfit in the listing.