So I've made plans to attend the Kick Off Party and the first two days of Austin Fashion Week. My job (and lack of hours) won't allow me to stay the whole week but I'm super excited to attend a Fashion Week.
Ok, so it's not New York, but Texas isn't as bad as people make it out to be! Fashion is playing a bigger part in the big cities, i.e. Dallas, Austin, Houston and San Antonio. It just takes people who are willing to put it out there.
So this is my itinerary so far - I'm still working on it - some things still need to be confirmed. I wasn't sure if I was going or even staying till Monday until yesterday when I got the day off. Each event it getting it's own blog post next week but you can catch come coverage on my Facebook and Twitter over the next few days.
SATURDAY ~ 8/4/10
@ 6:00 PM
SUNDAY ~ 8/5/10
@ 12:00 PM Fall Fashion Brunch
"Savor a delicious brunch and bottomless mimosas from Fleming's while enjoying the newest Fall fashions presented by Dress Shop. The fashion show will be followed by private shopping with special discounts for ticket-holders only! This will be our first event of the Fall season, so join us and get the best new items first! For tickets: $29, call Fleming's @ 512-457-1500."
---
@ 1:30 PM Makeover Your Accessories
Receive a free Rae Cosmetics makeover, while you sip mimosas and design your own Catherine Nicole piece of jewelry on the spot. We'll also have Grey Goose and Martini & Rossi cocktails, as well as delicious food from Blue Note Bakery. So, bring your friends to make over your accessories!
---
@ 2:00 PM Beauty Workshop
This pinup makeup and hair workshop will be held Sunday, August 15th at 2pm in the dance studio at Gemini Playhouse located in south Austin at 5214 Burleson Rd. Austin, TX 78744. Registration is $40 per person payable by mail, In person, or via paypal and is very limited as this is a special Austin Fashion Week event! The workshop will last for approximately 3 hours.
Wendy Sanders, who will be putting on the workshop, also writes a blog for
Rockabilly-Online.com
. I'm gonna have a hard time getting the Dita von Teese look since I chopped off my hair.
---
@ 5:00 PM Chia Trunk Party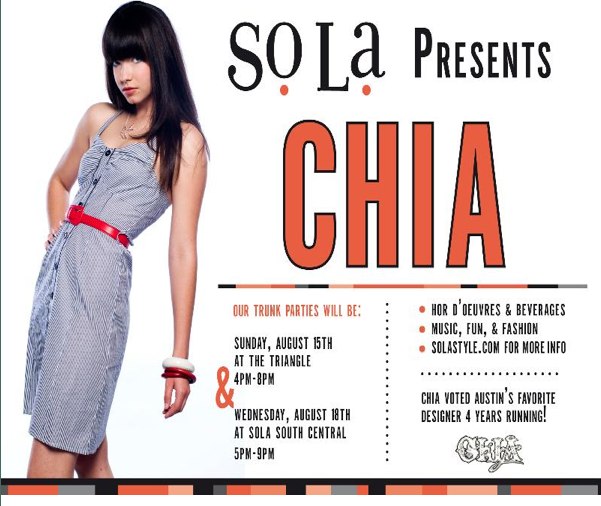 Join SoLa Boutique in welcoming Chia, Austin's Best Designer 4-years running. She is making perfect-for-summer skirts, new, cool sunhats & of course, her world famous reversible bags.
Sola will host Chia Trunk Parties on Sunday at the Triangle, at 4pm and Wednesday at SoLa on South Lamar, at 5pm.
Fashion, music, and fun to be had by all. Come get your own piece of Austin designer fashion all this week at SoLa.
---
@ 8:00 PM Fashion's Most Wanted
Check out their website for more info:
http://wix.com/FashionsMostWanted/Austin
About the Designer, Amanda Fay:
"I am sharing my obsessive and passionate romance with design through my work. My textiles, accessories, and garments are unlike any other. Breaking from the ordinary, my work embodies historical elegance and lively street culture. Creating a freshly unique, perspective on design through natural dye and print processes. Like the design aesthetic of the Japanese, I strive to create a harmonious balance between the natural and man made; organic and urban."
MONDAY ~ 8/6/10
Still awaiting confirmation on this event. I'll tweet as soon as I know!